Suku Mentawai
Suku Mentawai, which translated into English means Indigenous Mentawai, or Mentawai clans people, works in support of the indigenous Mentawai, whom have voiced a desire to improve their lifestyle and survival prospects, by facilitating the opportunity for local communities to access, develop, re-establish and learn a traditional cultural and environmental education.
Our Mission
To improve long-term health and wellbeing for the indigenous Mentawai community by facilitating the integration of tribal cultural and environmental heritage within the day-to-day education of local Mentawai children.
Our Objective
To develop and implement a sustainable cultural and environmental education program, together with, and for, the indigenous community of Mentawai.
Why the CEE Program?
For several thousand years, the indigenous Mentawai lifestyle revolved around a complex cultural framework known as Arat Sabulungan; a belief system based on a reverence to ancestral spirits, the sky, land, ocean, rivers, and all that which is contained within. Arat Sabulungan provided local people with the skills, knowledge, and values required for self-sufficient survival in the remote and often-harsh rainforest environment of the Mentawai archipelago.
As caretakers of traditional knowledge and culture, local shaman, known as Sikerei, whose main role within their community is to heal and protect others, fulfilled their responsibility to the wider community by educating others in the intricacies of the Arat Sabulungan lifestyle; simultaneously instilling within their people a comprehensive awareness of the rainforest, survival skills, values, and the key knowledge that life in the area is dependent upon. Access to such vital information, ensured that each member of the community maintained a well-balanced and healthy existence.
Thanks in part to the introduction of foreign policy and practices throughout the past century, the status of Sikerei has entered into a rapid state of decline, their roles within the wider community have been diminished and, subsequently, community access to traditional knowledge has become increasingly restricted.
As a direct consequence of diminishing Sikerei numbers, the opportunity for the indigenous Mentawai children to learn about their traditional cultural and environmental heritage has all but disappeared. This disconnect between Sikerei and the younger generations of indigenous Mentawai represents a fundamental change to their once strong cultural existence which, as discovered through extensive research and analysis of both a community educated under the Mentawai cultural education system and a community educated without, is causing a significant decline in the overall health and wellbeing within Mentawai (see the Film).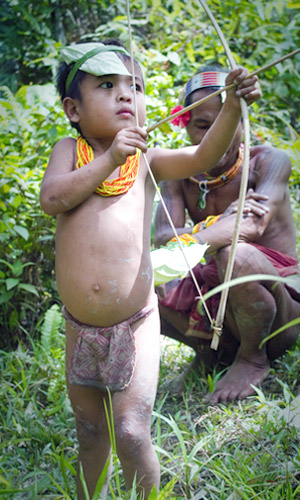 "A strategy has been developed in collaboration with the local community to provide local children with an opportunity to study agricultural and cultural education in conjunction with the national system of education"
Through extensive research and data obtained during a comprehensive baseline survey conducted by Suku Mentawai, it became increasingly apparent that, whilst the people consider a national education to be important, the indigenous community believe that learning about their own heritage is of far more importance to their children's survival. However, as is stated by the community sample, with almost all of the indigenous Mentawai community currently residing in resettlement villages dotted throughout the Mentawai islands, the opportunity for children to learn a traditional Mentawai cultural and environmental education simply does not exist.
In response to these findings, a strategy, the Cultural and Environmental Education Program, has been developed in collaboration with the local community to provide local children with an opportunity to study agricultural and cultural education in conjunction with the national system of education; a program, structured upon existing practices, roles, and networks, which seeks to combine traditional knowledge with methods of modern-day learning.

Key Baseline Survey Results
Conducted by Suku Mentawai during the latter part of 2011, the comprehensive baseline survey provided the indigenous community with, for the first time in history, the opportunity to register their own opinions, wants, needs and attitudes regarding the current social and societal situation through a regulated platform. In order to ascertain and document the extent to which foreign influence has had, and continues to have, upon Mentawai's indigenous communities, the baseline survey was designed to source core community perspective surrounding these changes.
As a result of the survey, conducted in Matotonan, a resettlement village located in the Southern region of Siberut Island, the community were able to inform the Suku Mentawai survey team of the disconnect they, as a resettlement community, were experiencing with regard to their cultural heritage. And, in turn, the executive team at Suku Mentawai have been able to, with careful consideration of the data obtained during the survey, consider what strategies, if any, the indigenous communities would like implemented in order to improve the future health and wellbeing of their people.
Qualitative and quantitative data confirmed that, in line with Indonesia's post-Independence nation-building goals, mainstream Indonesian ideologies and cultural practices are already well established within resettled communities. People believe in a recognized religion (98.2%); students enjoy attending school (89.5%); parents believe nationalised education is important for their children's future (76.8%); and is widely agreed upon that important developments for the future of the community include better schooling and educational facilities (43.1%); road, electricity, lighting, and communication improvements (22.4%); better employment opportunities and a stronger economy (9.8%)
Amidst this, data highlighted that knowledge of traditional culture is considerably low and that knowledge of environmental practices, once key to community survival, is virtually non-existent. As a whole, members of the community were unable to identify a single established community-based cultural and environmental activity; resulting in a fact that 68.5% of the overall community, and 87.7% of students, admit to possessing a low knowledge of the plants, animals, and forests. For a poverty-stricken people of whom 97.5% believe they could not survive without the ability to gather resources found in their surrounding forest, this information is representative of a dire situation and a community that could well be headed toward a state of ruin.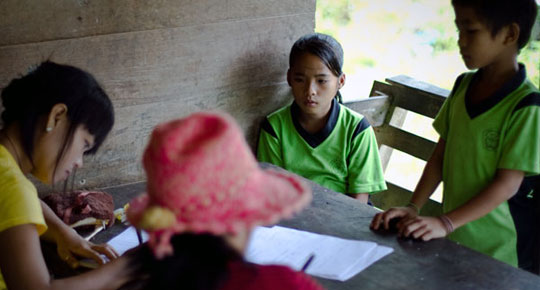 With 83.3% of all schoolteachers and 81.5% of students expressing an opinion that a traditional Mentawai education program, facilitating an ability for children to learn the traditions and skills of the forest such as the ability to hunt, cultivate, gather, build and to prepare and administer medicine, is likely to be of more vital importance to the children of Siberut than the development of reading and writing skills; when 11 of the 12 community leaders, 5 of the 6 teachers, 93.8% of the students, and 89.9% of the entire community voiced concern that students are not learning enough about their cultural lifestyle, Arat Sabulungan; it established enough evidence to justifiably conclude that there is both a need and the desire for a community cultural and environmental educational program.