Briefly updating on the progress of the Mentawai community-research study, we've just returned from the Islands where we were able to support an incredible team of young enthusiastic Mentawai in successfully conducting a Baseline Survey – an activity crucial to understanding the wants, needs and perspectives of the community; and what stategies, if any, they would like implemented to help improve their future.
Through this particular survey – conducted randomly throughout a community located in the inner-southern region of Siberut Island – we've been able to gather a comprehensive sample of qualitative and quantitative data pertaining largely to the role culture may or may not play for the future of each individual, their family, and their community.
I'm not in a position to provide comment on the results at this stage, as the data has yet to be analyzed; however, I will mention that, through feedback and the excitement gestured via the community involved, the feeling has been inspiringly positive. More to report on this soon though.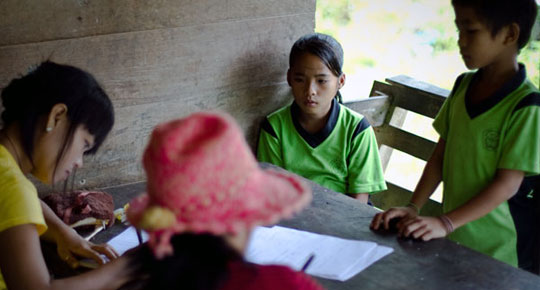 A big thanks to August, Hendri, Andi, Jepri, Rici, Elios, Aja, Marga, Asunta, Opi, Leni, and Matthew, Greg and Anastacia; and again to GLOBAL QUEST and to all those who have given their support. Surak Sabeu.