Mentawai Cultural Education Foundation – YPBM will continue to be committed to working to develop the Mentawai Cultural and Ecological Education Program (CEEP) for the young Mentawai generation. We will continue to improve the quality of learning in accordance with Mentawai values and traditions, increase the quantity and access to indigenous learning hubs for the Mentawai generation on Siberut Island as well as efforts to increase the economy through creative activities that we develop through the Mentawai Cultural and Ecological Education Program (CEEP). This impact report aims to highlight the progress and impact of the YPBM program so far. During 2022-2023 YPBM will make it possible to carry out the Mentawai cultural education program with support of our Australian partner Indigenous Education Foundation-IEF and support from One In An ARMY by highlighting the following impacts:
I. Assisted Funding 9 Indigenous Learning Hubs – Mentawai Customary School :
Currently implementing the cultural education program that we have developed a total of 9 cultural schools spread across the Siberut Islands and approximately 400 more students are actively participating, through the support of donors, YPBM makes it possible to financially support each Indigenous Learning Hubs. The necessary financial support includes teaching staff, operational costs and required learning tools.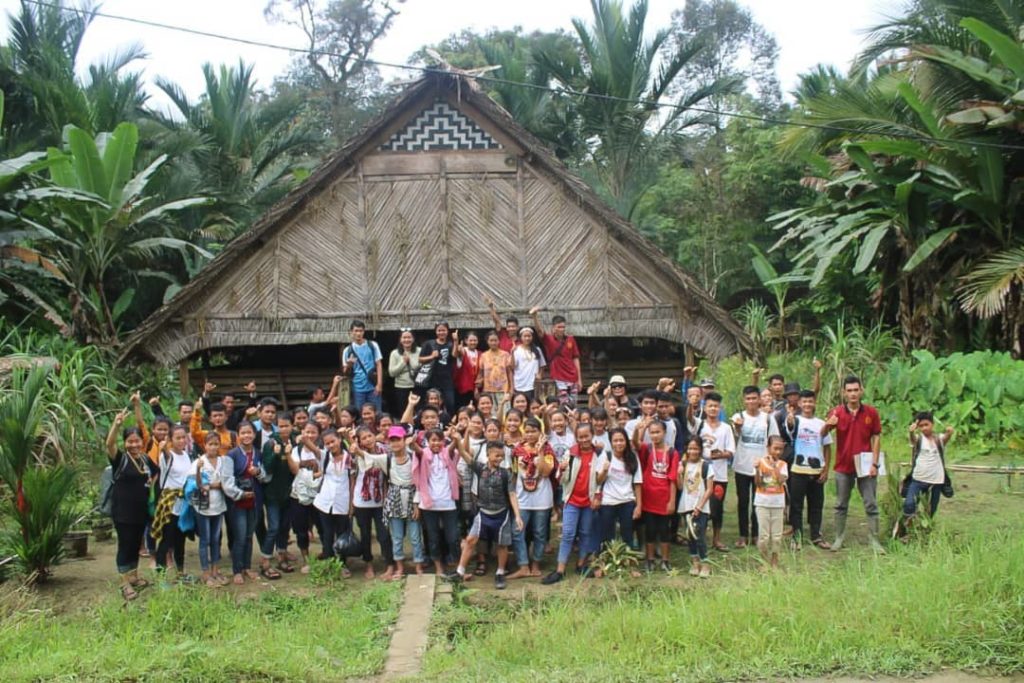 II. Start Building New Indigenous Learning Hubs in the Central Siberut – Gotab, Saliguma Village:
At the end of December 2022 we have opened a new Indigenous Learning Hub in Gotab, Saliguma Village, we coordinated with the government and the community in the local village and finally we have officially opened a  Indigenous Learn Hub there by empowering 2 program teachers, 1 distrik manager and 40 more active students.
III. Launching of Mentawai's Ethnobotany Field Guide, "Siureman Purimanuaijat Ka Simattaoi":
In 2019, together with our Australia partners, Indigenous Education Foundation (IEF) started research on important Mentawai plants with the aim of being used as a book and as an additional reference for textbooks for YPBM-assisted Indigenous Learning Hub students and the general public. With the support of our donors through One In An ARMY, at the end of 2022 we officially launched the first-ever Mentawai plant book on Siberut Island which is available in Mentawai and English. A long process and research with various challenges such as working spreat-remotely – digital communication through our Australian partners and the challenges of the covid-19 pandemic. With persistence and collaboration, it was possible to realize this project until launch and publication. Now a copy of this book "Siureman Purimanuaijat Ka Simattaoi" can be ordered at the YPBM office at a price of 250K for domestic orders, all profits will be used for YPBM program development and preparation of future research strategies.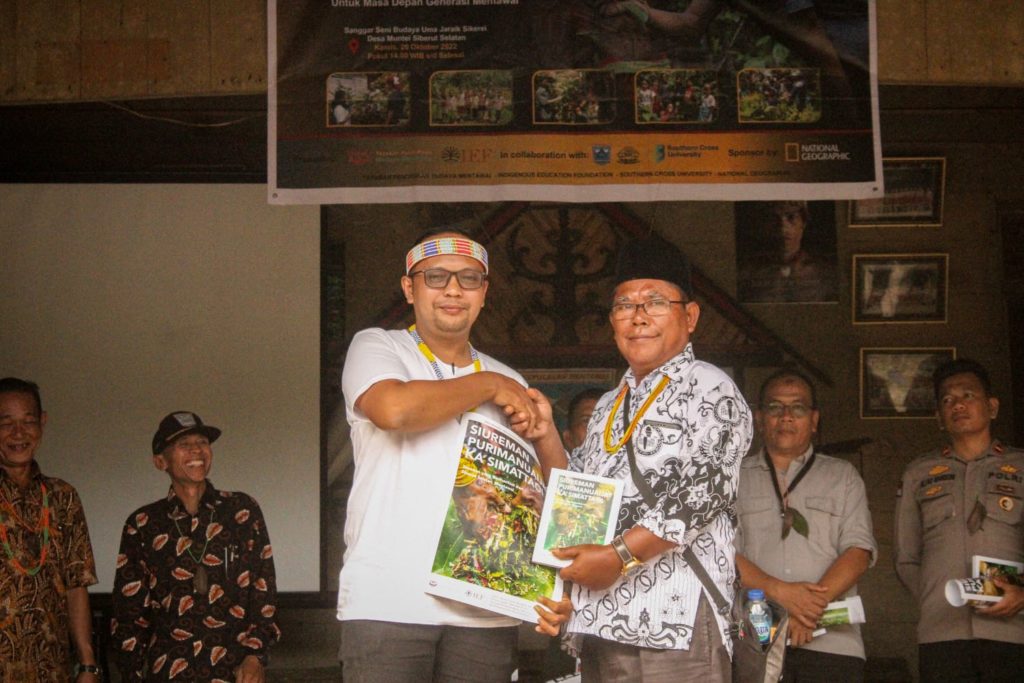 IV. Conducting Mentawai Tattoo Research:
Currently we are developing a research strategy and starting to conduct research for the creation of Mentawai "tattoo" books to add to reference textbooks for students of Indigenous Learning Hub and the general public.  Mentawai traditional tattoos are an important part of the culture and identity of the Mentawai people. Through this program we collaborate with anthropologists, young Mentawai tattoo artists, activists and the Mentawai community. We are proud to collaborate and empower many parties to advance the YPBM program.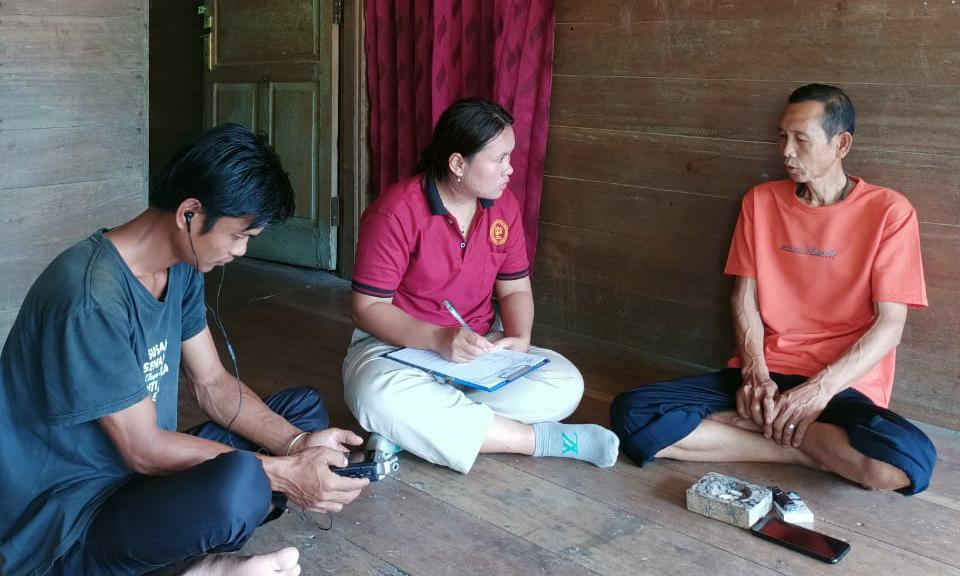 V. Support Administrative and Financial Security:
Through the support of partners and donors, YPBM has empowered and opened job opportunities for 15 core staff, 19 cultural teachers and 5 regional managers. It is a proud progress that through YPBM we can empower the wider community while developing Mentawai culture and exploring our own potential.
Through the strength and commitment of cooperation between partners and donors, YPBM currently has opportunities to develop Mentawai cultural education programs for the Mentawai generation and various other creative endeavors and work that can be developed. Therefore we would like to thank our Australian partners Indigenous Education Foundation-IEF for their commitment in financial support for the progress of the YPBM program. We also sincerely thank One In An Army for working hard to raise funds and for the kindness of everyone who has helped the YPBM program. We can't say anything else other than our thanks and commitment to our hard work advancing our Mentawai culture.
Below we present a short video of thanks by Mentawai Indigenous Learning Hub students to One In An Army for their financial support through a fundraiser in celebrating the birthday of BTS leader and personnel, Kim Namjoon's. We are proud to work with One In An ARMY and BTS Group . Enjoy. 
Thank You
Terimakasih
Masura' Bagatta
More about One In An Army click HERE and their fundraising program click HERE